WINDOWS 7 ▀ ESU EXTENDED SECURITY UPDATES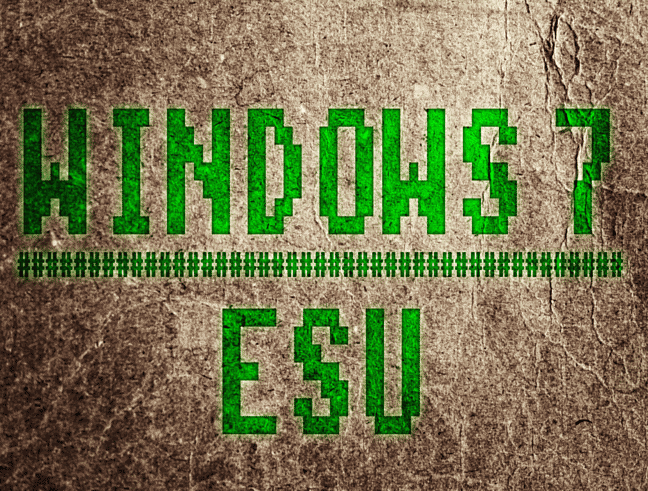 DON'T EVEN THINK THAT WINDOWS 7 IS DEAD!
Official extended support for Windows 7 operating system [ended on January 14, 2020] .
Home users can't extend support for the operating system while business and enterprise customers may extend support by up to three years [till January 14, 2023] , to be precise. This is done by joining the ESU program which is available per machine [business] or per user [enterprise].

░ BYPASS ESU
BypassESU is designed to "enable" ESU-patches on Home machines, basically on any machine that has not joined the program officially. It was discovered and published in December 2019 by AIO. The bypass worked with the test ESU patch that Microsoft released, but it was not clear back then if it would also work with "real" patches. Now, it is confirmed that bypass is working flawlessly even with real updates, so we got a green light here. Patch consists of three parts:
patch for WU engine to allow receiving ESU updates
suppress ESU eligibility check for OS updates [including .NET 3.5.1]
bypass ESU validation for .NET 4 updates [4.5.2 up to 4.8]
░ REQUIRED UPDATES
░ OTHER REQUIREMENTS
Make sure that "Windows Management Instrumentation [winmgmt]" service is not disabled
Temporarily turn off antivirus protection if you have such
Restart computer after using WU patcher
If nothing happening stop wuauserv service, delete the folder
C:\Windows\SoftwareDistribution

restart computer, and then check WU again
ESU updates for each month will require [at least] the latest extended SSU from previous month[s]. So it's like:
April 2020 updates require March SSU at least
May 2020 updates require April SSU at least
June 2020 updates require May SSU at least
July 2020 updates will require May SSU or June SSU
░ INSTALLING BYPASS ESU
Grab the latest version from the [MDL forum] [account needed] or download it from Gitlab. Password is 2020.
Download and install the ESU Test update [KB4528069] . Note, that patch is not available from Microsoft anymore.
Restart the System.
Install the following updates: [KB4537820] , [KB4537767] and [KB4537813] .
Restart the system.
░ SIMPLIX ESU UPDATE
If you don't want to mess with all these monotonous steps to make your system ESU compatible you can just grab Simplix ESU update pack .
[Direct file link] & [Torrent magnet link] It is always up to date and includes all recently released ESU patches.
Page is in Russian, but update includes mandatory English language. So, no worries!