AKI KAURISMÄKI ▀ THE ESSENCE OF MINIMALISTIC MOVIES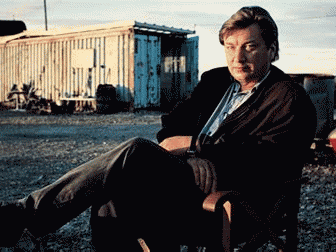 [Aki Kaurismaki] is Finnish film director who makes minimalistic'n'ambientish movies about life of plain folks. Some people describe Aki's films like «depressive», but I'm not agree on such superficial conclusion. I consider his art as a very neat backdrop for inner thinking and self-analysis.
Most of the characters are quite silent, but despite that fact their feelings are 100% understandable without any words. I think that Aki's movies represent the brief essence of entire life and they teach us about many aspects of life.
Music selection is another story. Regardless the fact that I'm not a big fan of early rock'n'roll music, i must admit that soundtrack always describe overall scene situation precisely with pedantic exactness.
So yeah, by all indications [his movies] without any doubts can be counted as non-pop top-notch art house.
THE MAN WITHOUT A PAST [2002]
---
DRIFTING CLOUDS [1996]
---
THE MATCH FACTORY GIRL [1990]
---