IT CROWD ▀ VISTA? WE ARE GOING TO DIE, ROY!!!!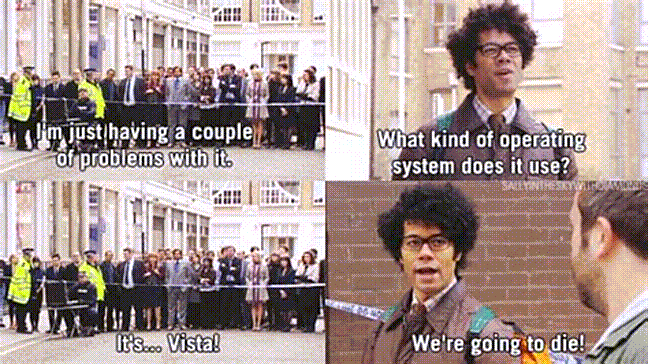 Moss: What kind of operating system does it use? 
Bomb guy: Vista!
Moss to Roy: We are going to die!

Actually, Vista was not so bad after all these service packs.
However, in golden release it was really awful: problems with USB speeds, GUI performance issues and so on.
As for looks, I like it soooo much and even [transformed my Windows 7] into Windows Vista.
Will post a note regarding this transformation in a while.
Ah, and almost forgot this marvelous French support piece.
Note: I have made some changes to color scheme of the blog, hope you like it.
Orthodox file manager called [FAR] inspired me a lot.