TRUSTED SOFTWARE FOR WINDOWS 7 [MEGA-LIST]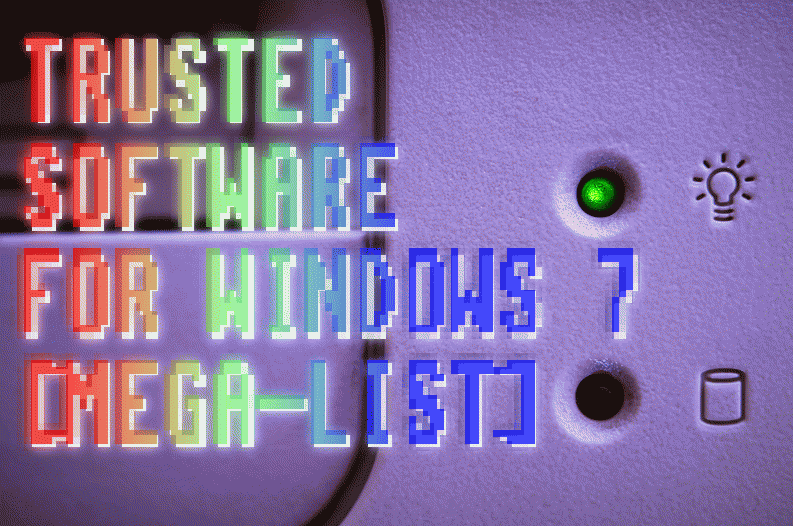 UPDATED ON: 2023-12-05
NOTE: list will be updated in the future [final renewal is planned somewhere around end of 2024 and beginning of 2025].

List of essential software needed for smooth and hassle free system performance. I use these applications on a daily basis.
Selection is really private, but nevertheless of this fact I want to share my knowledge with you.
List doesn't contain any microsoft or adobe products. Sorted by usage frequency.
Also i'll do my best to provide final Windows 7 compatible versions of software.
[Contact me for suggestions and error reports] .
▓64▓ ◄ this mark indicates that application is 64-bit
░▒▓█INTERNET█▓▒░
░▒▓█OFFICE█▓▒░
░▒▓█VIDEO█▓▒░
░▒▓█GRAPHICS█▓▒░
░▒▓█MUSIC TRACKERS█▓▒░
░▒▓█AUDIO TOOLS█▓▒░
░▒▓█SYSTEM TOOLS█▓▒░
░▒▓█SYSTEM DLLS█▓▒░
░▒▓█SYSTEM TWEAKERS█▓▒░
For system tweakers check [DEDICATED SECTION] of the blog.
░▒▓█BENCHMARKS & TESTS█▓▒░
░▒▓█DOS RELATED STUFF█▓▒░
░▒▓█WINDOWS 7 ARCHIVE.ORG MIRROR█▓▒░
HERE YOU WILL FIND ALL WINDOWS 7 RELATED STUFF IN ONE PLACE!
Also make sure to check out [modern software forced to work in Windows 7] .