FULL MOTION VIDEO ON A 1981 IBM PC WITH CGA VIDEO ADAPTER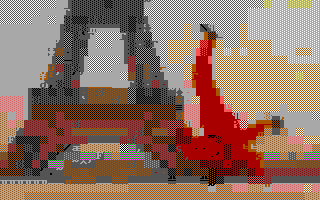 One more demoscene post if you don't mind.
Awesome technology to play full motion video with in sync audio on very slow puters using text mode or very low res.

Courtesy of Trixter [Jim Leonard] / Hornet
---
8088 CORRUPTION [2004]
[Demo page]

---
8088 DOMINATION [2014]
[Demo page]

---
8088 CORRUPTION VS 8088 DOMINATION

---
THIS IS HEAVY!!!!

COMPREHENSIVE DETAILS ON FMV TECH

---
Trixter confirmed that he was inspired by Spaceballs demo called State of the Art.

SPACEBALLS ► STATE OF THE ART
[Demo page]

---
And one more honourable mention of code excellence.
Modern hackers from [Booze Design] managed to push 1Mhz [!!!!] [Commodore64] computer to the upper limits.
I think that even Commodore developers didn't suspect that such things could be done on this lil' C64 machine.
BOOZE DESIGN - EDGE OF DISGRACE [2014]
Demo size: ~360Kb
[Demo page]

---
Ohh man, how cool is that?