THE MOST AMAZING DEMOSCENE PRODUCTS OF THE FADING ERA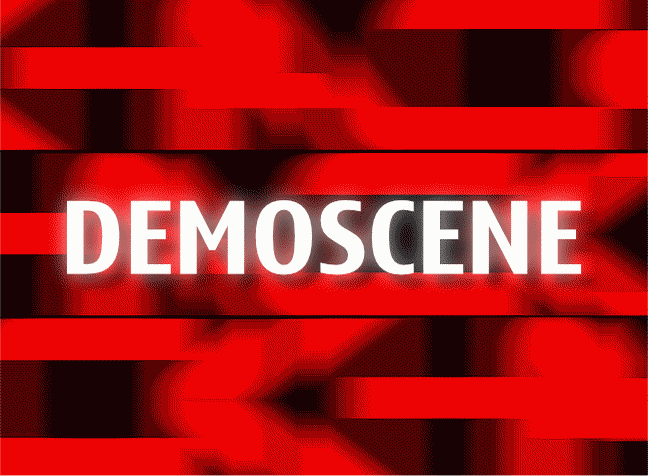 It is pretty strange that i didn't cover this topic in previous posts. So, i stand corrected and posting it now!
@ FIRST: [WHAT IS DEMOSCENE?]
In this quick breakdown i'll point to the most coolest demoscene stuff out there.
▓ IBM PC [DOS/WIN]
In early 90s finnish coders from [Future Crew] brought phenomenon of demoscene to masses.
FUTURE CREW - SECOND REALITY [1993]
Demo size: 2Mb
[Demo page]

---
[The Black Lotus] are Swedish Atari/Amiga hackers.
First TBL demo, which i saw back in 2000 on PC platform.
I can't understand how they've managed to pack these graphics and sound into 64Kb demo clip.
The answer was quite straightforward: all demo stuff like gfx and audio were generated on the fly from scratch.
No pre-generated textures or sound samples were used.
TBL - STASH [1997]
Demo size: 64kb
[Demo page]

---
German hackers from [Farbraush] simply blowed up demoscene in late 00s.
FARBRAUSCH - FR-041: DEBRIS [2007]
Demo size: 180Kb
[Demo page]
---
▓ ATARI & AMIGA
[The Black Lotus] is famous for their top quality [Atari Falcon] /[Amiga 1200] demos mostly.
TBL are doin' pure magic on those 60Mhz machines of the time.
Hacker skills and software optimization are jaw-dropping.
TBL - EON [2019]
Demo size: ~1.6Mb
Platform: low-end 7 Mhz [Amiga 500]
[Demo page]

---
TBL - STARSTRUCK [2006-2018]
Demo size: ~18Mb
[Demo page]
Platform: hi-end 60 Mhz [Amiga 4000] based around [Motorola 68060 CPU]
First version was released in 2006.
2018 remaster brought some code optimizations and bugfixes.

---
TBL - OCEAN MACHINE [2005]
Demo size: ~10Mb
[Demo page]

---
OCEAN MACHINE
AMIGA 1260 VS ATARI FALCON 060

---
As you can see Atari demo runs a bit faster due to some hardware and software advantages, like:
dedicated DSP for sound processing [audio consumes less than 0.5% of CPU time]
more optimized video memory management
faster RAM [SDRAM vs EDO/FPM]
---